Infrastructure for the vehicles of the future
We are investigating efficient solutions for electro-mobility
Electricity-based mobility is currently seen as a possible way of moving towards a more environmentally-friendly type of individual transport, one with zero local emissions. Electro-mobility has also received support in the political arena. In 2009, the Federal Government set the political target of reaching one million electrical vehicles by 2020.
To achieve this target, the energy infrastructure has to be prepared to cope with new tasks. In a series of projects, we have investigated the requirements not only for supplying electrical vehicles, but also for seeing them as part of the future energy system. In future, vehicles will not only be energy consumers – in the long-term they will also act as energy storage facilities. They are an opportunity to integrate sharply fluctuating generation volumes from renewable energy sources, such as wind power or photovoltaics, into the energy system more efficiently. Our first objective along this path is to make the respective input and output volumes controllable within grid operations – without any noticeable reduction in user convenience.
"Future Fleet" project
In the "Future Fleet" project, we worked in a consortium together with SAP and various institutes and universities to investigate how commercial car pools can be operated in future using electricity. To this end, we designed, developed and operated smart infrastructures at SAP in Walldorf, Bensheim, Karlsruhe and St. Leon-Rot, as well as at MVV Energie in Mannheim. This way, we supplied a fleet of around 30 electrical vehicles on a reliable, permanent basis. The principle guiding our actions was to charge the vehicles exclusively with electricity generated from regenerative energy sources. The insights gained from the "Future Fleet" project will thus help us reach our aim of putting green electricity on the road.
"Smart Grid Integration" project
The integration of electro-mobility into the electricity supply is the object of a research project currently underway in Baden-Württemberg under the title "Smart Grid Integration", in short: SGI. Under our management, a consortium is looking into energy management and control systems able to guarantee both user convenience and grid stability. This project is being promoted as part of the "Electro-Mobility South-West" model cluster with a total of around Euro 1.1 million by the Federal Ministry of Education and Research (BMBF).
In this project, which has a 36-month term and was launched in January 2013, the partners are looking into concepts and strategies to make battery charging for electrical vehicles controllable for distribution grid operators without restricting user convenience. This active control could help stabilise the grid and avoid critical grid situations. Not only that, this approach to electro-mobility also helps meet the requirements for better integrating electricity generated from renewable sources, such as wind and solar power, into the energy system.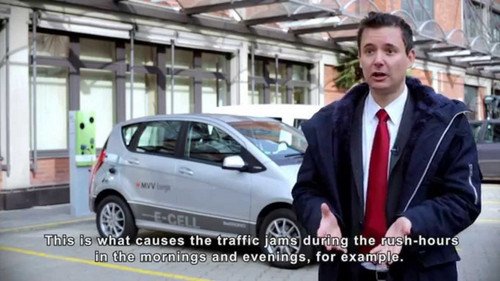 Smart Grid Integration: The Project by MVV Energie
Intelligent control conceptions are needed to keep electricity grids stable even with a large number of electric vehicles using them. "Smart Grid Integration" scrutinizes the most promising approaches.