Green heat for Mannheim and the region
Warm water and heating in houses and apartments currently account for more than one third of Germany's CO2 emissions. The heat turnaround is therefore decisive in making a success of the energy turnaround.
In view of this, MVV is pressing ahead with new green energies and technologies. We are designing cutting-edge energy infrastructure that can serve as a blueprint for smart cities in Germany and across the whole of Europe. And we are reinventing district heating by building on the broadest green electricity and heat portfolio available at any German energy company. This starts with residual heat from waste incineration and ranges via regenerative energy sources such as biomass, biomethane and river heat through to new possibilities in the areas of geothermal energy, biogenic sewage sludge incineration and waste industrial heat.
As of today, climate-friendly energy forms already cover up to 30 percent of annual heating requirements in Mannheim and the region. MVV's district heating grid has a length of 592 kilometres and supplies not only Mannheim, but also Heidelberg, Schwetzingen, Brühl, Ketsch and Speyer. In Mannheim alone, more than 60 percent of households, corresponding to 120,000 households, use environmentally-friendly district heating.
In Mannheim, district heating already saves around 300,000 tonnes of CO2 a year compared with other conventional heating systems. Environmentally-friendly green heat boosts this positive energy balance even further. To date, it has enabled us to save up to 100,000 additional tonnes of CO2 a year. This makes green heat one of the largest CO2 reduction projects in Mannheim.
With our green heat, we will be able to guarantee a reliable supply of heat even after the phasing out of coal. District heating is and will remain an indispensable component of our sustainable and forward-looking heating concept.
At a glance: new green solutions in MVV's district heating grid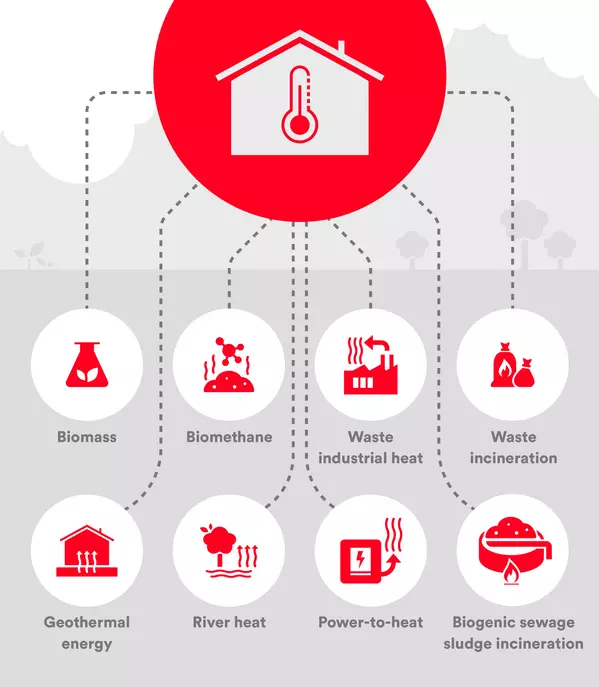 New heat sources to make a success of the heat turnaround
Using waste to generate electricity and heating energy is a key factor in making a success of the energy turnaround. We are one of the leading companies in Germany in this field and operate a total of eight energy from waste plants in Germany, the UK and the Czech Republic.
We operate our waste incineration plant on Friesenheimer Insel in Mannheim using highly efficient cogeneration. We use the resultant heat to supply steam to neighbouring industry and feed it into the district heating grid in Mannheim and the region. The next step is the biomass power plant, which will feed in heating energy from 2024. Not only that, we will further increase the overall heating energy yield from our energy plant portfolio by working with innovative energy efficiency technologies. This way, we will further develop the Friesenheimer Insel location into a valuable component of the energy turnaround and of a sustainable recycling-based economy for Mannheim and the Rhine-Neckar metropolitan region.
At Kieler Förde, the new gas-fired CHP plant replaced the coal-fired joint power plant (Gemeinschaftskraftwerk – GKK) in 2020. In combination with a heat storage facility and a power-to-heat plant, the power plant can react with the utmost flexibility to changing needs on the energy market. The use of a large-scale heat pump that draws environmental heat from the fjord is also planned in Kiel. At EVO, the volume of heat coupled out from the energy from waste plant has been increased in recent years, meaning that more than half of Offenbach's district heating now comes from green energy sources.
We also aim to take advantage of our favourable geographical location to supply heat to people – drawing both on river heat from the Rhine and on geothermal heat from the Rhine Rift. From 2023, we will use the river water of the Rhine as a climate-neutral heat source to generate green district heating with the help of a river heat pump. And for the future use of geothermal energy, prospecting is currently underway with Geohardt, a joint venture managed with EnBW, in sections of the Upper Rhine Rift between Mannheim and Karlsruhe.