Genuine CO2 reductions "Beyond Carbon Zero"
Germany has set course to become climate neutral by 2045. We at MVV will be climate neutral by 2040 already. And we aim to go one step further: We will be one of the first energy companies in Germany to actually become climate positive. Our target for the period from 2040 onwards is: "Beyond Carbon Zero". This way, we are making a major contribution to limiting global warming to 1.5 °C in line with the Paris Climate Agreement.
We are becoming #climatepositive – and achieving genuine CO2 reductions.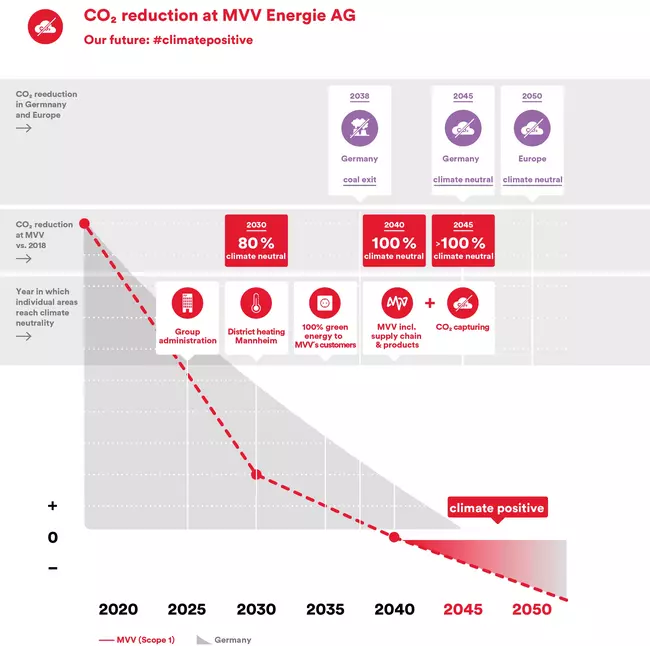 Climate positive – how does that work?
In the long term, MVV will not only be climate neutral, it will actually become climate positive. We will then remove more harmful greenhouse gases from the atmosphere than we emit. The key to this is waste incineration.
CO2 is released both when non-recyclable waste decomposes naturally and when it is incinerated. At our waste incineration plants, we can capture the greenhouse gas from the smoke after incineration and then store this gas securely.
At the waste incineration plants, non-recyclable waste is first significantly reduced in volume. During this process, any contaminants and hazardous substances are fully neutralised. Residual emissions of particulate matter, nitric oxides and sulphur dioxides are filtered out using state-of-the-art flue gas cleaning systems. Not only that, at the end of the process unrecycled resources, such as metals and resources for the construction industry, are sorted out and made usable again, i.e. reintroduced to the economic cycle.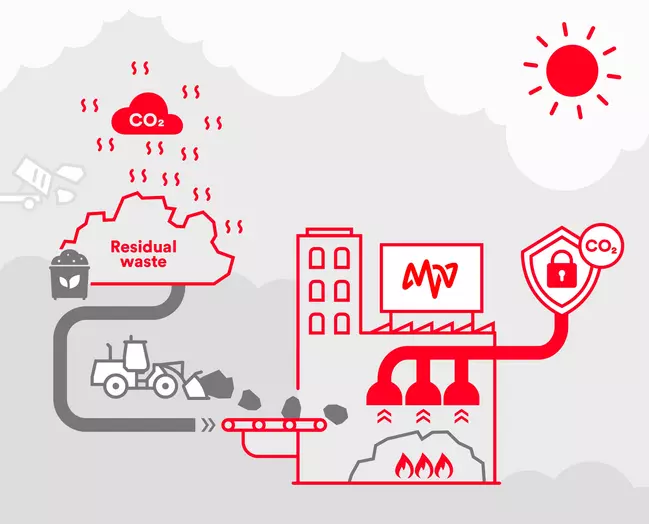 We then obtain valuable energy from the waste. We use the energy contained in the non-recyclable waste in the form of heat, electricity and process steam for industry and households.
And if we can filter the carbon compounds contained in the non-recyclable waste out of the flue gas in such a way that these emissions do not reach the atmosphere but are rather stored securely or themselves reused as input materials, then this process is even CO2 negative.
At present, around 50 % of the waste treated at our energy from waste plants is of biogenic origin. The German Building Energy Act classifies biodegradable components of household and industrial waste as biomass and defines the heat generated from these as renewable energy. Biodegradable waste components come from biogenic sources, such as timber, paper, kitchen and garden waste, all of which remove CO2 from the atmosphere in their production (e.g. tree growth). Based on this definition, biogenic waste incineration is climate neutral, as the volume of CO2 released by the waste corresponds to the amount previously removed from the atmosphere, for example during biological growth.
However, if this CO2 inherent to the product is immobilised upon incineration by being captured and stored, the fact that the CO2 is not released into the atmosphere again means that the plant acts as a CO2 sink. It thus makes a climate-positive contribution. In technical terms, we aim to achieve this by capturing carbon compounds in the flue gas of the biogenic residual waste. These compounds do not enter the atmosphere but are stored securely or reused as input materials. This way, we remove more CO2 from the atmosphere – and become climate positive.