The heat turnaround – possibly the most important key to climate neutrality
MVV is Germany's third-largest district heating supplier. That means we have a particular responsibility to decarbonise our heat sector.
Our goal is green heat, i.e. heat generated in renewable and climate-friendly ways. By 2030, we will gradually convert all the district heating in Mannheim and the Rhine-Neckar metropolitan region to green energy sources, i.e. we will move from 100 percent fossil-based to 100 percent green. Here, we are building on a broad portfolio of green technologies that complement each other ideally and ensure a high level of supply reliability.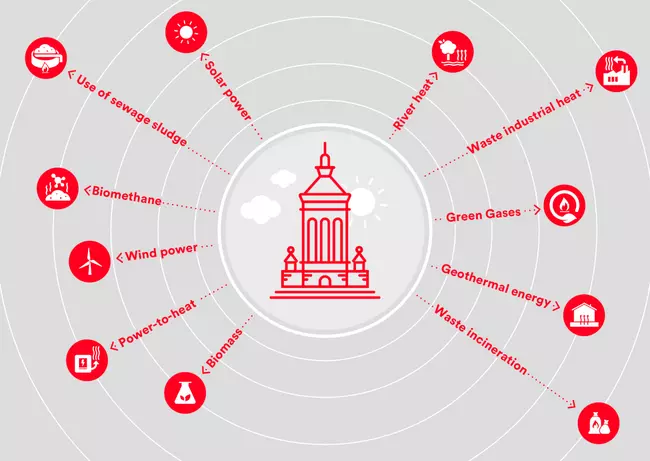 In Mannheim, we have already come one third of the way. We will finish the second third in 2024 and complete the whole conversion by the end of the 2020s at the latest. The next specific steps we are taking to decarbonise district heating in Mannheim and the region are:

We are building a first river heat pump in Mannheim-Rheinau. With a heat generation capacity of 20 MWt, this will use the environmental heat in the Rhine from 2023 onwards.
By 2023, we will launch operations with a plant to recycle phosphorous from sewage sludge at our Mannheim energy park on Friesenheimer Insel.
We are extending our biomass power plant (waste timber) in Mannheim to include a heat extraction facility. With a heat extraction capacity of 45 MWt, this CHP plant will make a major contribution to the district heating supply from 2024 onwards.
We are gradually tapping the potential for waste industrial heat at the plants at our energy park on Friesenheimer Insel.

We are also working hard to reach 100% green district heating at our other locations. With its course of Heading for Climate Neutrality, Stadtwerke Kiel is also set to achieve climate neutrality by building large-scale heat pumps and converting the gas-fired power plant to hydrogen.